Acoustic Interior Doors
Our acoustic interior doors are one of the leading manufacturers of high performance and quality soundproof acoustic doors in China, and we are proud to receive the recommendations of the best soundproof and anti-noise door suppliers recommended by our customers, which is the symbol of the best quality and excellence. Reflecting our own company spirit and ensuring that our customers have the highest standards and the performance of our products. Our solid wood interior doors feature a range of features such as fire protection, aesthetics, and emergency exit hardware, making them suitable for the following industries.
Offering one of the best fire rated oak interior doors, the design is clear and perfect. We manufacture wooden acoustic interior doors that are widely accepted by customers because we meet the required standards. Our solid wood interior doors are in line with our customers' specifications. The door leaf and frame are made of high quality hardwood to meet the requirements of the customer.
Acoustic Interior Doors Technical Parameters:
1. Processing technology:
Wood veneer composite technology + hot pressed wood veneer technology;
Professional CNC cutting technology for solid wood interior door + cold pressed composite sound insulation material;
Quality measurement + inspection hole position (automatic machining process design, in line with international processing technology standards).
Automatic wood veneer sealing technology + automatic trimming technology;
Automatic opening lock hole + hinge + door closer;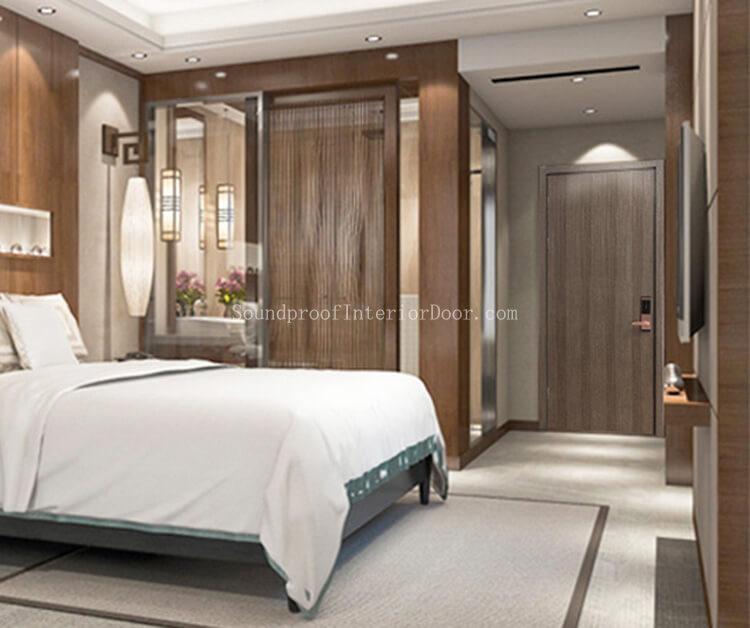 2. Structure of door leaf 55mm thick:
The surface and four sides of the door leaf are automatic edge banding wood finishes. (wood veneer type: natural veneer and technical veneer, veneer thickness is 0.5mm-0.6mm)
The surface structure of the oak interior door leaf is: sound insulation composite material + multi-layer solid wood composite board + environmental friendly wear-resistant paint.
The bottom of the acoustic door is equipped with an automatic lifting seal strip(concealed), which is in close contact with the ground and provides excellent sound insulation, smoke and mosquito resistance.
Acoustic Interior Door Construction Details
The wooden acoustic interior door frame is made of hardwood as required.
Door leaf – The inner frame is made of hardwood and faces a 3 mm thick mass loaded vinyl.
The three sides of the door frame include a fire/smoke seal, with the automatic seal at the bottom.
InFill Material – Acoustic wool treated with a flame retardant soundproof board.
Visual Panel – Glass Vision Panel (optional)