Sound Proof Wooden Doors
We are a professional soundproofing wooden door manufacturer offering customised indoor soundproof doors. Our years of experience combined with our craftsmanship skills make us a leading expert in optimizing the acoustic performance of any type of door. Acoustic wood and metal acoustic doors are used in primary live performance venues and industrial applications where noise and sound control are major concerns. More importantly, high on-site noise reduction is always maintained under actual working conditions. We offer fully factory assembled door units including blades, time-saving split frames, seals, locking hardware and glass.
Sound Proof Wooden Doors Size Range:
Standard size: (H) 2100mm *(W)900mm (height*width)
The maximum custom size is: single leaf: (W) 1100mm * (H) 3000mm; double leaf: (W) 2000mm * (H) 3000mm.
We will fully understand your specific requirements so that we can recommend the correct technical specifications for your sound proof wooden doors. We specialize in the production of non-standard and custom-sized doors for a variety of acoustic applications, including:
• Auditorium, multi-room and home theater
• Concert hall and concert venue
• Soundproofing wooden doors for hospitals and nursing homes
• Schools, colleges and universities
• Hotels, soundproof wood doors for offices and factories
• Public buildings, museums and galleries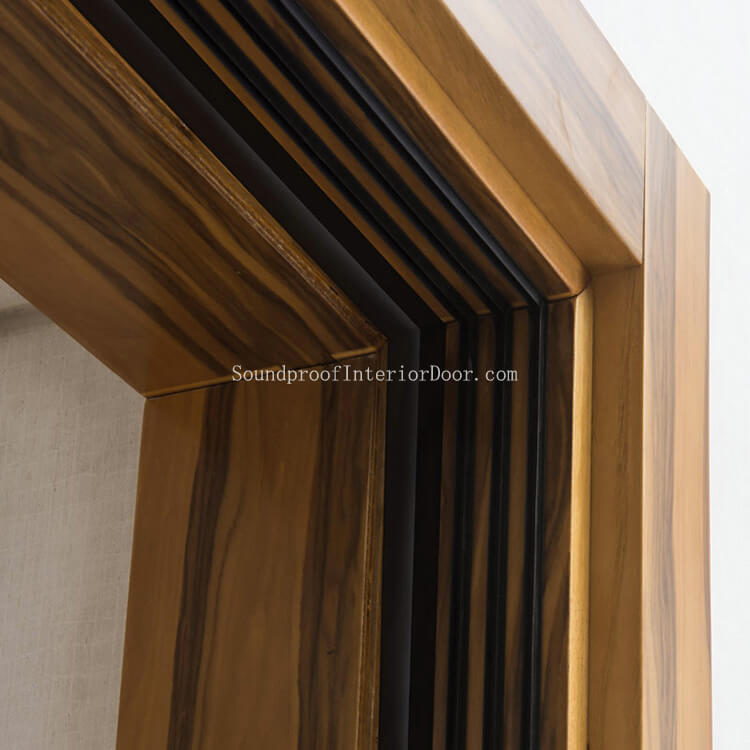 Sound Proof Wooden Door Feature
The independent laboratory's testing of the sound proof wooden door frame unit meets the latest standards. Sound resistance wood and steel doors from 50mm to 60mm thickness. Noise resistance from STC 35 to STC 45. Steel doors are thicker. The unit is designed to accept off-the-shelf heavy builder hardware. Soundproof steel doors are available in factory-installed soundproof glass. General cost of sound proof wooden door is higher than normal door, but lower than steel door.
Acoustic Series
These soundproof wood doors range from STC 35 – STC 45 and are available as single or double door assemblies. This range offers the widest range of blade finishes and frame profiles to date. With large visual panel features, these wooden soundproof doors and sound proofing wood door pockets provide the perfect combination of architectural elegance and certified acoustic performance.