Sound Acoustic Door
This high-performance, sound acoustic door reduces sound by 35 decibels. This beautiful door soundproof is ideal for a variety of domestic interiors and is widely used in apartments, hotels, offices, radio and television stations due to its soundproofing. It is available in a variety of standard sizes and can be customized to meet project requirements.
Sound Acoustic Doors Summary and Benefits
Provide a variety of visual panel configurations
Custom door components can be manufactured to your exact specifications
A range of soundproof door assemblies have been thoroughly tested
A variety of final finish options, including wood finishes, laminates or paints
Fire and smoke seals have been installed at the time of delivery
Sound Acoustic Door Size Range:
Standard size: (H) 2100mm *(W)900mm (height*width), soundproof door 800
The maximum custom size is: single leaf: (W) 1100mm * (H) 3000mm; double leaf: (W) 2000mm * (H) 3000mm.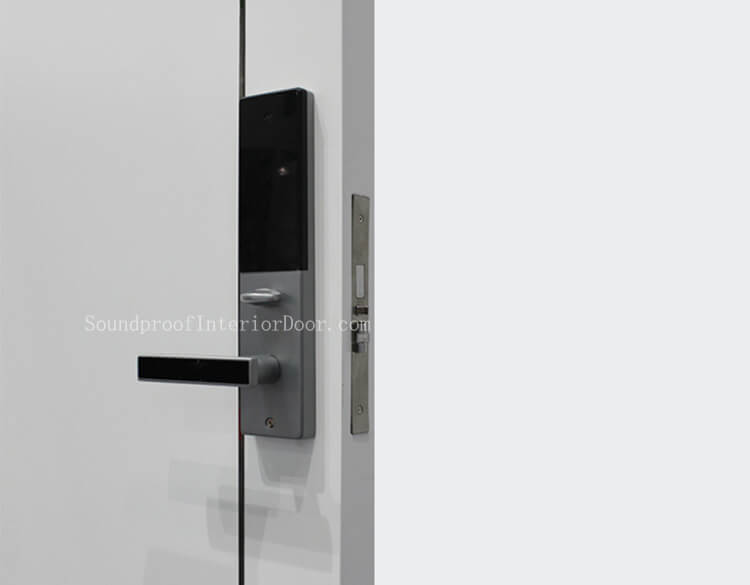 Soundproof Structure Technical Description:
1. Door frame and acoustic interior door leaf sealing treatment: It adopts Y-shaped, U-shaped and L-shaped four-layer soundproof sealing structure.
2. The sound acoustic door leaf adopts the patented technology of the invention: the oblique mouth technology.
3. The door leaf adopts multi-layer damping composite sound insulation material, which is used for sound insulation and noise absorption through the material properties of different media.
4. The bottom of the sound acoustic door is equipped with an automatic lifting seal (concealed), and the 8mm soundproof sealing door has a hanging angle that is in close contact with the ground.
5. The installation and sealing treatment between the soundproof interior door frame and the wall surface is treated with high polyurethane foam + sealing structural adhesive to enhance the sound insulation effect.
Sound Acoustic Doors Technical Specifications
Reduce the sound of 35 decibels, soundproof door db 35
FD 60 fire rating
Height 2100mm
Width 900mm
Soundproof door hinge
Standard door blank size
Custom sizes available on request