Sound Proof Interior Door
We offer a full range of standard and custom interior sound proof doors, all designed to meet the needs of the toughest industrial and commercial applications. Interior wood doors are available to meet fire performance.
Sound Proof Interior Door Characteristics
Full range of sizes
Sound insulation performance 36dB
Door leaf and frame in PU paint.
The sound proof interior door leaf is made of high density solid wood and other soundproof materials.
Door frame is made of solid wood.
Sound Proof Interior Door Structure Technical Description:
1. The door leaf adopts multi-layer damping composite sound insulation material, which is used for sound insulation and noise absorption through the material properties of different media.
2. The interior wood door leaf adopts the patented technology of the invention: the oblique mouth technology.
3. The bottom of the sound proof interior door is equipped with an automatic lifting seal (concealed), and the 8mm soundproof sealing door has a hanging angle that is in close contact with the ground.
4. Door frame and sound resistant door leaf sealing treatment: It adopts Y-shaped, U-shaped and L-shaped four-layer soundproof sealing structure.
5. The installation and sealing treatment between the DIY door frame and the wall surface is treated with high polyurethane foam + sealing structural adhesive to enhance the sound insulation effect.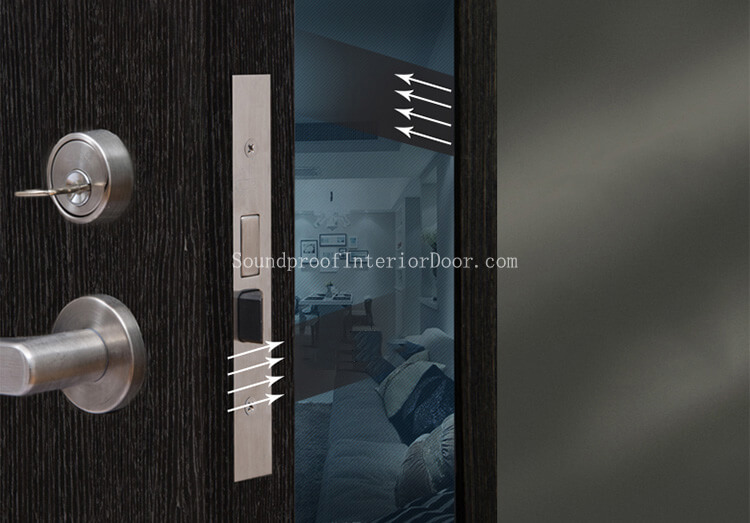 Sound Proof Interior Door Performance
We use high quality materials and sophisticated manufacturing techniques to ensure we maintain strict quality standards. The development of noise-reducing materials for the aerospace industry is precisely combined with superior design to produce sound proof interior doors with unparalleled noise reduction quality.
The soundproof interior sound proof door is designed for execution. Our experienced acoustic engineers use innovative design combined with new noise reduction technology. This combination produces significant noise reduction performance at a reasonable cost.
Soundproof interior wood doors are available with up to 38 STC ratings according to the latest standards. However, sound performance field testing is the only way to ensure that you are completely satisfied.