Sound Insulated Doors
Noise control has become a major concern for a variety of architectural applications. As one of the leading manufacturers of insulated doors, we have the ability to provide our customers with sound insulated doors for use in sound sensitive environments such as airports, hospitals, government buildings, auditoriums, apartments, hotels and educational institutions. With STC ratings from 35 to 38, we offer the perfect insulated door panels for every project you need.
The complete range of single and double sound insulated door units meets the performance requirements of up to STC 35 dB. Ideal applications include cinemas, studios, machine rooms, generator rooms and other sound-contaminated rooms. All details are for reference only and our technical support team will be happy to recommend a personalized design application.
Sound Insulated Door Size Range:
Standard size: (H) 2100mm *(W)900mm (height*width)
The maximum custom size is: single leaf: (W) 1100mm * (H) 3000mm; double leaf: (W) 2000mm * (H) 3000mm.
Sound Insulated Doors Features:
Full range of sizes
Single leaf or double leaf version
Sound insulation up to 35 dB
Door frame made of solid wood or steel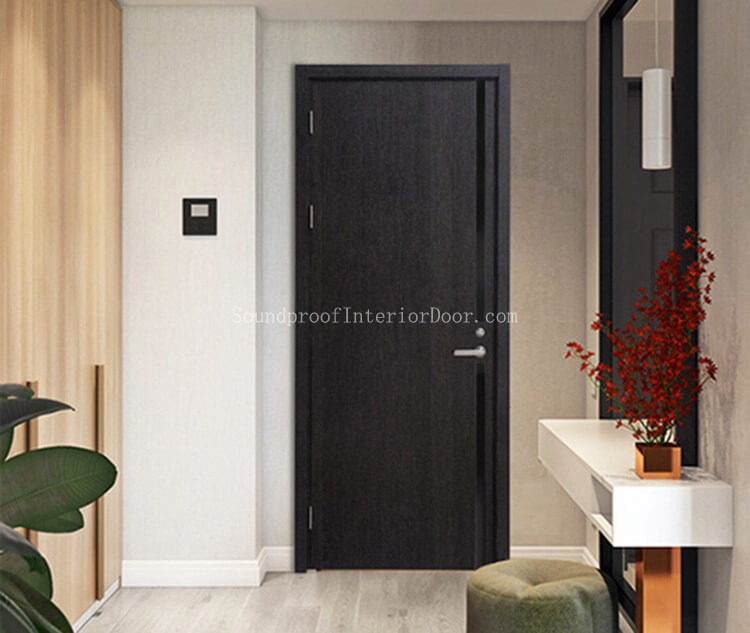 Technical Parameters:
Wood veneer composite technology + hot pressed wood veneer technology;
Professional CNC cutting technology for door sound insulation + cold pressed composite sound insulation material;
Quality measurement + inspection hole position (automatic machining process design, in line with international processing technology standards).
Automatic wood veneer sealing technology + automatic trimming technology;
Automatic opening lock hole + hinge + sound isolation door closer;
Technology:
The production of wooden sound insulated doors is based on a unique technique involving the use of special core and acoustic seal procedures to achieve the desired STC rating. This solution ensures high resistance to sound transmission and acts like a sound barrier.
Material:
The insulated door panel is made of solid wood and other soundproof materials. Sound insulated door frames are available in solid wood or steel upon request. The leaf leaves are wrapped in foam for protection during transportation and assembly.
Sound Insulated Door Options
Single or double leaf insulated door panels
Thresholds and various types of seals
With a visual panel